Scope Contests
Looking for authentic writing opportunities for your students? How about ways to recognize their work? Scope's writing contests are just the thing! Scope is packed with contests to get your students excited about writing all year long. (Plus, they can win awesome prizes.)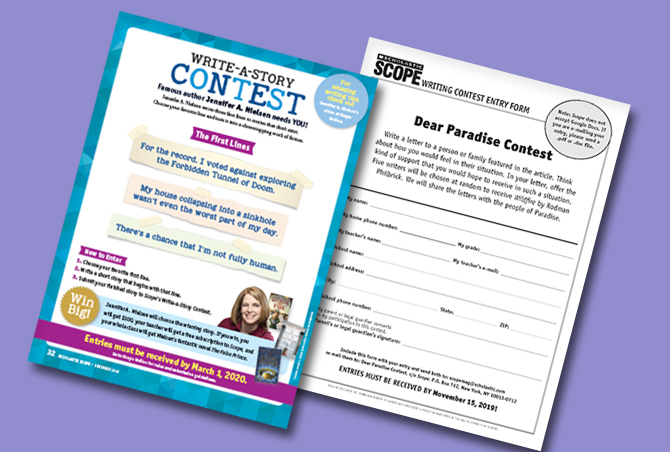 Monthly Writing Contests
With each issue of Scope, students have the chance to enter several writing contests and win a gift card or a fantastic book handpicked by Scope editors. Students answer a writing prompt based on an article or story in the magazine. The prompts are great opportunities for students to create everything from an argument essay or a speech to a poem or a podcast. Find out about our current contests, including entry forms and deadlines, here. 
Share these 7 tricks with your students to help them with their entries.

Annual Write-a-Story Contest
Each year, Scope teams up with a famous author for the Write-a-Story Contest. The author writes three story starters, students pick their favorite one, and then they use it to write an original short fiction story. The winning student gets $100 and has his or her story published at Scope Online, and the student's teacher gets a class set of books. Previous featured authors include Jennifer A. Neilsen, Jason Reynolds, Gordon Korman, and Lisa Yee. Find everything you need to know about the current Write-a-Story Contest here.